Kitchen Renovations: Ideal Splashback-and-Countertop Combination
26/04/2023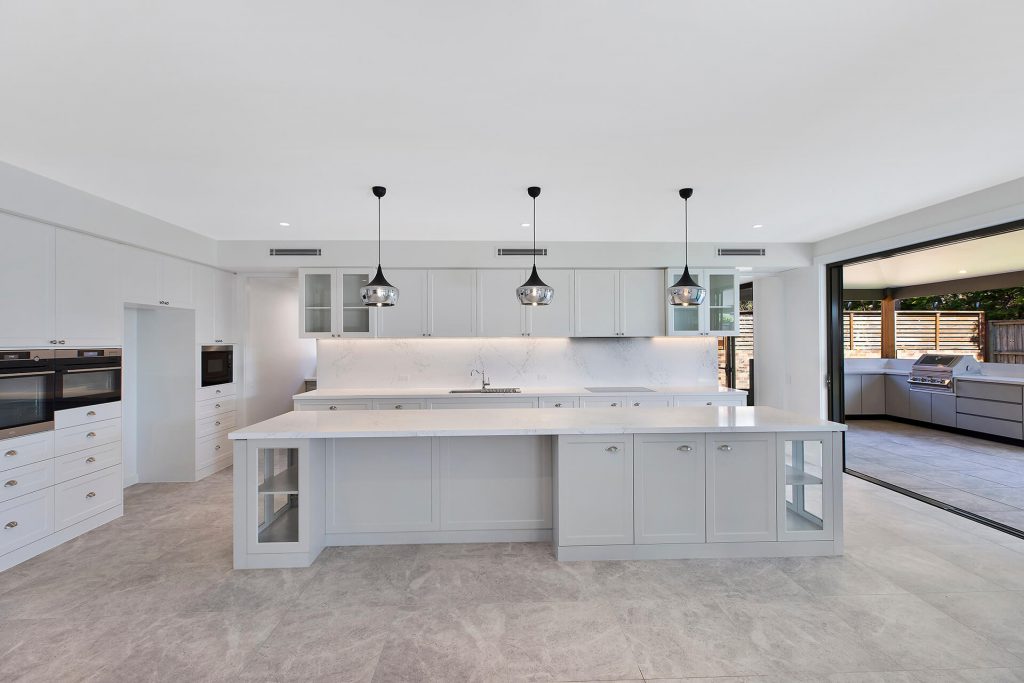 Transform your kitchen with Trim Joinery Central Coast kitchen renovations. Discover the ideal splashback and countertop combination for your dream kitchen.
Kitchen renovations may be a lot of fun, but it's not as simple as it looks, especially when getting your backsplash and countertop to look well together. Which hues and kinds of materials will go along nicely? Would combining different patterns work with the theme you already have? Which should be chosen first, the backsplash or the countertop? The endless options for available splashbacks and countertops may make selecting difficult.
We sought out industry professionals to acquire some pointers and recommendations on how to put together an attractive combination of countertops and splashbacks. This section has compiled helpful hints and pointers to make the selection process more smoothly.
As A General Guideline, You Should Select Your Benchtop Before Anything Else
Beginning with the countertop choice is one of the most effective ways to pull off a good countertop-splashback combo in your kitchen or bathroom. When selecting your countertops, a large portion of your kitchen that takes up a large amount of your cash will make the process quicker and more convenient overall. In addition, kitchen splashbacks are available in an infinite variety of materials and colours, in contrast to more restricted countertop selections. So, deciding on your countertop first will assist you in quickly narrowing down your alternatives for the backsplash.
The Strategy Of Focusing First On The Splashback
While picking countertops, there is a good chance you will come across an attractive backsplash that you won't pass up. In such a circumstance, you have little choice but to select the splashback that initially captured your interest. The process of selecting countertops will undoubtedly be easier and more simple if a certain backsplash is already installed. This will assist in making the process less intimidating.
Ensure Complementing The Two
If you want to add aesthetic appeal to your kitchen, you might feel tempted to mix and match various colours and patterns. Ensure that one of the pieces acts as the centrepiece of your kitchen and that the other element serves as a complementing feature, even if both elements showcase various colours and patterns. It's also smart to use the same material for your countertop and backsplash if you can help it. For instance, selecting a glass backsplash for your kitchen would be wise if you already have a glass countertop installed. This will assist in building uniformity while producing a great deal of aesthetic intrigue.
Other Considerable Splashback-and-Countertop Combination
The ideal splashback-and-countertop combination depends on your style and the overall design of your kitchen or bathroom. However, some popular combinations also work well together.
Marble Countertop – Subway Tile Splashback: This classic combination is timeless and elegant. The subtle veining of the marble complements the clean lines of the subway tile.
Quartz Countertop – Glass Or Mirror Splashback: The reflective quality of the glass or mirror splashback adds depth and light to the space, while the durable quartz countertop provides a sleek and modern look.
Butcher Block Countertop – White Subway Tile Splashback: The warm tones of the butcher block countertop provide a natural contrast to the crisp white subway tile. This combination works well in a farmhouse or rustic-style kitchen.
Granite Countertop – Mosaic Tile Splashback: The granite's speckled texture complements the mosaic tile's intricate design. This combination is perfect for a Mediterranean or Tuscan-inspired kitchen.
Countertops and Splashbacks' Impact on Your Kitchen
The countertops and splashbacks greatly impact the usefulness and aesthetic appeal of your kitchen that you choose to install. It is essential to carefully consider your options to determine a combination that complements and draws attention to your kitchen.
We recommend that you consult with us if you are still having trouble visualising how your kitchen will turn out and choosing among the numerous possibilities available for kitchen splashbacks and countertops. Our professionals can assist in making various decisions around the selection of the countertop and backsplash, making the process simple and stress-free for the homeowner.
Optimized by: Netwizard SEO